Sept. 24, '08
All sorts of fun stuff to cover this time!
We got a King Behemoth! Really late camp, most went to bed, so some people from Ethereal came out to help us.
I didn't take any pics, but it looked kinda like this:


Some fun amount of time later, Ashiee walked away with some Adaman Breeches, giving her 5/5 Earthen set, and we gave the Pixie Earring to Hisui from Eth. Congrats to both of them, and to Cloudg on his Behe Tongue. (Money drops sucked, cloth only.)
On further teamup time with Ethereal LS, another Odin was taken down. Here's how it went down:


Congratulations everyone on another Odin done, albeit a bit overdue.
Valhalla Helm - Odion | Hecatomb Subligar - Hisui (Ethereal LS)
Shadow Breastplate - Diplomatt (Ethereal LS) | Shadow Cuishes - Hisui (Ethereal LS)
Some sea pops:
Prudence Torque - Rawanz | Prudence Rod - Rawanz
Temperance Axe - Raphen | Hope Staff - Darthmaul
Proto-Ultima fun for the masses: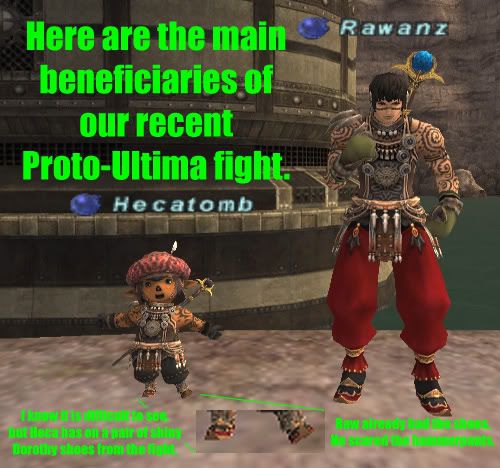 Same as usual, besides back to back Armor Busters killing all the melee.
Congratulations Rawanz on your Nashira Seraweels and congratulations Hecatomb on your Nashira Crackows!
Dynamis stuff:
Great Beaucedine run, even though we did get a prolific amount of SAM af… congratulations everyone!
BST - Cloudg, Crosswind | BLM - Darthmaul | BLU - Raphen
WHM - Moonfrost | MNK - Ryno | COR - Nickm
THF - Anacrusis | WAR Pru | DRG - Kalelsama
Plus, last, and probably least,
SAM - Deyos, Crosswind, Kahne, Kalelsama
Xarcabard was kind of blah, but congratulations y'all who got some AF!
COR - Kahne | NIN - Raphen
WAR - Rawanz | PUP - Razdaz
Good job everyone on a nice week!