October 22, '08
All sorts of fun stuff to cover this time around. (Cuz I'm slow about doing updates.)
I'll start things off with a li'l Salvage news, first Salvage piece for someone in quite a while,
big congratulations to Marihokii on her shiny new Morrigan's Pigaches!
Some fun times with Ethereal, been killing off some ToAU beastmen kings, Medusa and Gulool Ja Ja so far. Here's Medusa.


Her battleground is pretty cool. I don't have pics of Gulool unfortunately. =/
We did a string of Unstable Clusters for a bunch of people one night, that NM sucks. On the upside, our droprate was fairly good. Congratulations to Kahne, Xcaliber, Crabcakes, and Kalelsama on their new Soboro Sukehiros!
Yet another Proto - Omega, more Homam is always a good thing. Here's Nick and his Homam Zucchetto.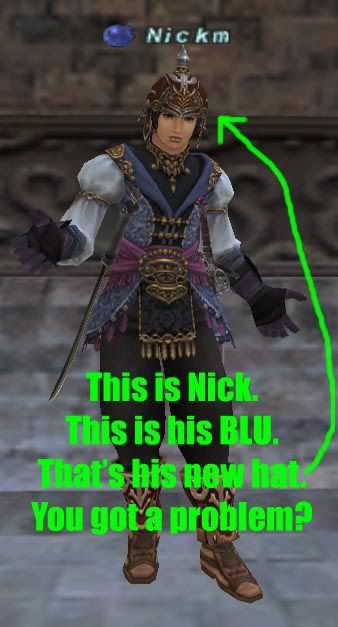 We're running out of BLUs to give hats to. We also got a pair of Homam Manopolas, congratulations to Vilius on his new gloves! (I never got a pic of him.)
Bunch of ZNM pops:
Naglering - Inuyasha | Enkidu's Mittens - Razdaz, Crabcakes
Oracle's Gloves - Provolone, Crabcakes | Aurum Sabatons - Crabcakes
Enkidu's Subligar - Anacrusis | Tomoe - Deyos, Redcell, Crabcakes
Trilling Dagger - Scrappy | Hacchonenbutsu Dangozashi - Cloudg
Some Sky NM pops:
Genbu's Shield - Mischa | Crimson Greaves - Nickm
Seiryu's Kote - Crosswind | Shura Zunari Kabuto - Darthmaul
Hecatomb Leggings - Mischa | Hecatomb Mittens - Kahne
Finally got around to doing some of our myriad of Bahamut v2 orbs. Here's one with pretty nice drops.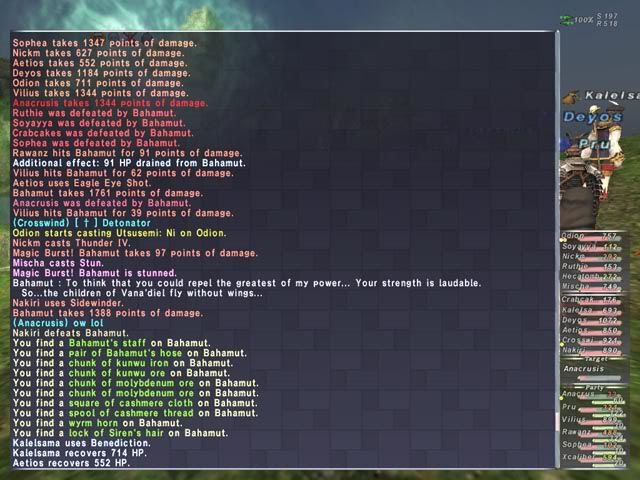 Flare got off near the end on that one. :3 Death = nice drops. Congratulations to:
Bahamut's Staff - Vilius | Bahamut's Hose - Hecatomb
Bahamut's Zaghnal - Crosswind, Inuyasha | Dragon Staff - Jasdebi
And, last but not least, to round out this update, here's yet another compilation of Dynamis - Xarcabard AF.
OMFG RDM HAT - Anacrusis | PLD - Darknjager | THF - Kahne
BLM - Anacrusis | NIN - Kalelsama | SMN - Crabcakes
BLU - Nanashii | WAR - Darknjager | RNG - Kahne | WHM - Mischa
That concludes this flood of gear. Thank you for tuning in.