jun2209
I have no excuses for the complete lack of updates on this site. Shit happens. But, y'all can look over what we've been doin' for the last large chunk of time.
To start this stuff out, here's a tally from our Einherjar stuff with Ethereal LS. 'Grats!


Valhalla Breastplate - Nakiri | Shadow Breastplate - Ashiee, Alris (Eth)
Dalmatica - Moonfrost | Crimson Scale Mail - Dathus (Eth)
Shadow Helm - Rawanz | Koenig Deichlings - Nakiri
Crimson Mask - Don't remember. | Shadow Gauntlets - Don't remember either.
Omega. *Yawn* Robots get a little boring to look at.
But Homam is good. Btw, did you know that
there's a movie called Homam? Here's a look.


Looks like good times! Grats on your armor everyone.
Homam Zucchetto - Moonfrost, Joyeuse, Dimitrii, Anacrusis
Homam Corazza - Crosswind, Soyayya
Homam Manopolas - Crosswind, Soyayya, Kalelsama
Homam Cosciales - Pru, Xcaliber, Malikai, Soyayya
Homam Gambieras - Vilius, Kalelsama
Couple Ultimas also. That fight's annoying. Citadel Buster is bs. See?


Congrats on your red stuff y'all.
Nashira Manteel - Soyayya | Nashira Gages - Vilius
Nashira Seraweels - Nevena, Xcaliber | Nashira Crackows - Nickm
HNMish stuff: Spent a little bit of time in the Aery, I think we all know how that goes.


PARTY WHOOOOOOOOOOO. Niddy n Fafs, stuff, etc.
Hecatomb Subligar - Xcaliber | Zenith Pumps - Jasdebi
Adaman Mufflers - Someone. Meh. | Wyrm Beard - Kalelsama
Couple stupid unicorns.


Azoth - Lahwok | Ixion Cape - Rawanz
Couple stupid dogs too.


Algol - Crosswind, Soyayya
Salvage gear is Awesome. But not as awesome as toast.


Marduk's Shalwar - Jasdebi | Morrigan's Slops - Marihokii
Usukane Gote - Deyos | Usukane Hizayoroi - Malikai
Sky stuff is Awesome too. But not as awesome as Portal.


D.Head Abj. - Xcaliber | W.Hands Abj. - Nevena | Seiryu's Kote - Kazimir
<Bahamut> I'MMA CHARGIN' MAH LAZER


SHOOP DA WHOcruddy drops overall. At least we got a mask and some cashmere.
Bahamut's Mask - Mischa | Bahamut's Hose - Crosswind, Xcaliber
Dragon Staff - Buncha ppl. Lulz.
ZNM Stuff: Lootwhoring abounds! Congrats on your gear everyone!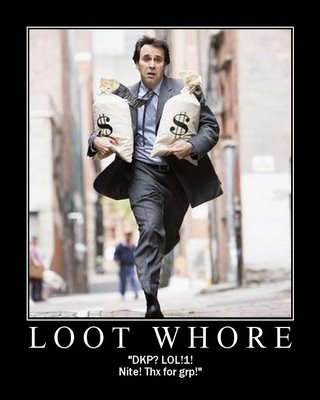 Enkidu's Subligar - Xcaliber, Kazimir, Provolone, Kalelsama
Oracle's Cap - Provolone, Inuyasha, Level, Jasdebi
Enkidu's Mittens - Marihokii, Casiale | Enkidu's Harness - Raphen
Enkidu's Cap - Anacrusis, Moonfrost | Oracle's Braconi - Lisep, Lahwok
Aurum Sabatons - Malikai, Soyayya | Aurum Gauntlets - Soyayya, Joyeuse
Shusui - Vilius, Kahne | Alkalurops - Marihokii | Organics - Inuyasha
Hachiryu Sune-Ate - Moonfrost
And now… we come to that magical time again, where I flood this page
with a billion pieces of Dynamis gear. Seeing as this encompasses about
3 months of gear…. I'm just gonna group all the runs together by zone,
and save myself a crapton of typing. Brace yourselves.

Xarcabard
THF - Kalelsama
RDM - Nevena, Kalelsama, Mischa, Crosswind, Hylia
DRK - Crosswind, Deyos
BLU - Hylia, Provolone, Nevena, Ryno
NIN - Xcaliber, Kahne, Nevena, Malikai, Anacrusis
DNC - Moonfrost, Nevena
BLM - Provolone, Odion
BST - Level, Kalelsama
COR - Orestes, Nevena
PLD - Rawanz
BRD - Odion, Lahwok
WHM - Nakiri, Rawanz
MNK - Rawanz, Cloudg
RNG - Malikai, Anacrusis, Soyayya, Level
WAR - Crosswind, Xcaliber, Chiako
DRG - Pru, Kahne, Jasdebi
PUP - Mischa
SCH - Malikai, Nevena, Moonfrost
Valkurm
DRG - Kahne
DRG -1 Hat - Ryno, Pru
WHM Belt - Nevena, Marihokii
THF Cape - Rawanz
MNK -1 Hat - Hylia
NIN - Kalelsama
PLD - Kahne
BRD Cape - Lahwok
SCH -1 Hat - Provolone
NIN Belt - Malikai, Rawanz, Kahne
SAM Belt - Orestes
WAR Belt - Inuyasha, Odion
COR Belt - Kahne, Nevena, Pru
PLD -1 Hat - Rawanz
BLM -1 Hat - Inuyasha
SAM -1 Hat - Sophea
SMN Cape - Lisep, Tails
DNC Cape - Moonfrost
RNG -1 Hat - Kalelsama
BLU -1 Hat - Pru
BRD -1 Hat - Lahwok
PUP -1 Hat - The Ground
DNC -1 Hat - Moonfrost
BLU Cape - Nickm
PLD - Lahwok
THF - Soyayya, Pru
DNC - Moonfrost
Jeuno
SAM - Hylia
MNK - Lahwok
THF - Chiako
Windurst
NIN - Kahne
WHM - Joyeuse
DNC - Nevena
Sandy
RDM - Kalelsama, Dimitrii
BRD - Lisep
MNK - Cloudg, Chiako
WAR - Cloudg
BLU - Provolone
PLD - Inuyasha
RNG - Kalelsama
WHM - Tails
PUP - Anacrusis
Bastok
SCH - Anacrusis, Lisep
COR - Nevena, Deyos
THF - Soyayya, Chiako, Tengu
MNK - Hylia, Chiako
BST - Kalelsama, Xcaliber
DRG - Joyeuse
BLM - Level
DRK - Soyayya
BLU - Dimitrii
Qufim
WHM Belt - Anacrusis
SAM - Soyayya
MNK - Ashiee
WAR - Pru, Anacrusis
BRD - Pru
THF - The Ground
Beaucedine
DRG - Kahne, Rawanz, Joyeuse
THF - Chiako
DNC - Moonfrost
WAR - Nevena
BLU - Provolone, Nickm
BST - Kalelsama
SMN - Kalelsama, Kahne, Lisep, Darthmaul
BLM - Inuyasha
NIN - Anacrusis, Inuyasha
COR - Nevena
RDM - Anacrusis
MNK - Odion, Inuyasha
SAM - Xcaliber, Dimitrii
RNG - Kalelsama, Level, Xcaliber, Soyayya
SCH - Anacrusis, Lisep, Marihokii
DRK - Soyayya
Buburimu
MNK - Kalelsama
BLU - Nevena
SAM - Hylia
DRG - Soyayya
WHM - Lisep
COR - Nevena
BRD - Hylia
THF - Hylia
Whee, look at all that stuff. Good times. Good times.
My update's done now, y'all can gtfo.