December 04, '08
Yeah yeah, I know I haven't updated this page in a billion years, so sue me.
Here's the plethora of shit we got since my last post over a month ago.
Salvage stuff:
Hurray for a couple body armors! Big congratulations to Nakiri on his Ares's Cuirass, and to Ruthie on her Marduk's Jubbah!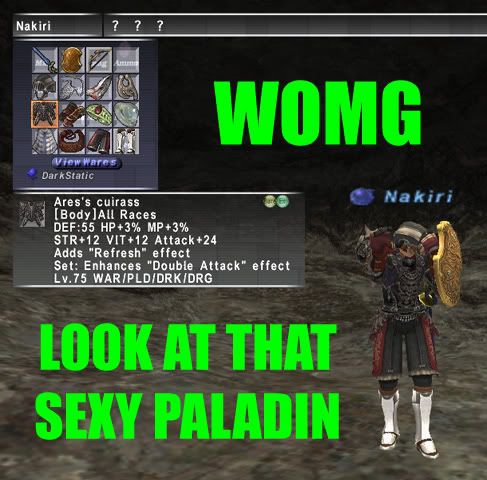 Also, congratulations to Odion on his Usukane Gote (4/5 for set), and to Anacrusis on his Ares's Sollerets (YAY ME)!
We did 2 Odins with Ethereal LS since last update, good times were had by all. This fight's pretty fun.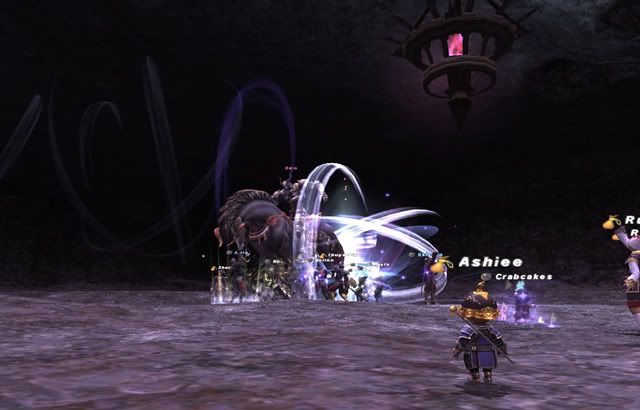 Congratulations to everyone who got some cool drops from the fights!


Adaman Hauberk - Inuyasha, Rayfe (Ethereal LS) | Dalmatica - Redcell
Valhalla Helm - Gaspar (Ethereal LS) | Hecatomb Cap - Ryno | Zenith Mitts - Hecatomb
Shadow Clogs - Skizzum (Ethereal LS) | Shadow Hat - Kasaijin (Ethereal LS)
We killed a bunch of Aspids, but Aspid hates us. As such, with 4 Aspids, we got 3 sets of D.Feet, and 2 sets of M.feet. Congratulations to Xcaliber and Darknjager on your Koenig Schuhs, and grats to the ground on all those Shura boots. -.-
Combined with some KS99 Wyrms, this lead to a bunch of belts being finished. Congratulations y'all!
Black Belt - Odion, Malikai, Cloudg
(Side grats to Rawanz on his egg, but not finishing his belt.)
A random Kirin pop (quite a rarity for us nowadays) yielded a pole and a Neptunal Body.
Don't remember who ganked the Kirin's Pole, but big congratulations to Pru on his Hecatomb Harness!
Lots and lots of ZNM pops: Congratulations to all of these people!
Naglering - Kalelsama, Soyayya, Malikai | Alkalurops - Anacrusis, Crabcakes | Tomoe - Anacrusis
Enkidu's Cap - Ruthie, Crabcakes | Enkidu's Harness - Anacrusis, Crabcakes
Enkidu's Mittens - Noye, Nanashii, Sophea | Enkidu's Subligar - Crabcakes | Enkidu's Leggings - Anacrusis
Aurum Gauntlets - Tengu | Aurum Cuisses - Kalelsama, Deyos, Pru
Aurum Sabatons - Odion, Moonfrost, Noye | Oracle's Gloves - Xcaliber
Oracle's Pigaches - Xcaliber | Hachiryu Sune-Ate - Ruthie
Limbus stuff: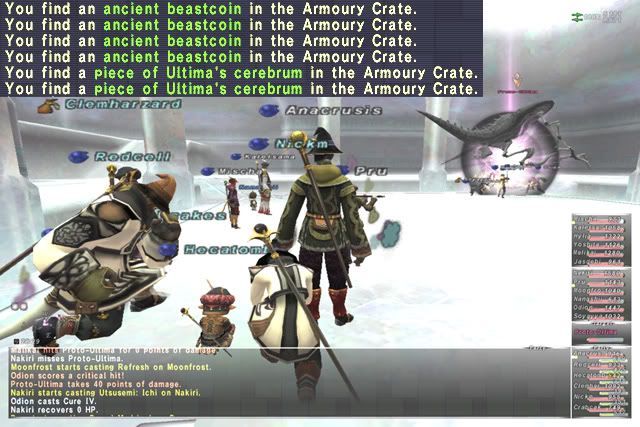 Proto-Omega and Proto-Ultima fun. Congratulations to all y'all who got some new armor!


Homam Corazza - Anacrusis (4/5, no lolhat) | Homam Cosciales - Vilius (mmmm sexypants)
Homam Zucchetto - Deyos (lolhat) | Nashira Turban - Kalelsama, Moonfrost (lulhats)
Dynamis: There's a lot of runs to post, so incoming flood of AFv2.

Windurst: bleh.
WAR - Xcaliber, Kalelsama | SMN - Vilius, Crabcakes
SAM - Deyos | BLM - Nanashii | BST - Rawanz
Buburimu: Pretty nice run.
MNK Cape - Vilius, Cloudg | PLD Cape - Vilius
RNG Belt - Tengu, Crabcakes | BLU Cape - Ruthie | WAR Belt - Xcaliber
PUP -1 Hands - Razdaz | WAR -1 Hands - Mischa | DRK -1 Hands - Moonfrost
BST -1 Hands - Raphen | BLU -1 Hands - Raphen
Xarcabard: Not bad, not spectacular. Very happy PLD tho.
PLD - Xcaliber | WAR - Nanashii
BRD - Crabcakes | NIN - Rawanz
Another Xarcabard: Excellent run, lots of AF, and YAY for RDM AF!
RDM - Jasdebi | BLU - Raphen, Moonfrost
WHM - Nanashii, Clemharzard, Odion | SAM - Raphen
NIN - Darknjager | COR - Redcell | SMN - Jasdebi
Beaucedine: Meh, not much AF, but got a couple 100s. Again, yay for RDM AF.
RDM - Mischa | RNG - Malikai | WAR - Xcaliber
Bastok: MONEYYYYYYYYYYYYYYYYYYYYYYYYYYY and holy BLU AF Batman.
BLU - Ryno, Moonfrost, Ruthie, Nickm
BLM - Odion, Crabcakes, Provolone
PLD - Soyayya | BST - Cloudg | SAM - Hylia
San d'Oria: Wow. Lots of AF, LOTS of currency, and whole zone clear + boss win. Go us.
BLU - Ruthie, Nickm, Raphen | WHM - Provolone
PLD - Crosswind, Yoshitaka | COR - Kahne, Xcaliber
WAR - Xcaliber | RDM - Hecatomb | BST - Crosswind
NIN - Raphen | MNK - Hecatomb
And, to close out this update, here's some fun stuff.
We had our way with Dark Ixion for quite a while, decked out the whole LS,
even made some money. Many chests were kicked, many people electrocuted.
Here's some nice, pretty shots from Ashley with good graphics, and a couple entertaining shots at the end with my crap graphics.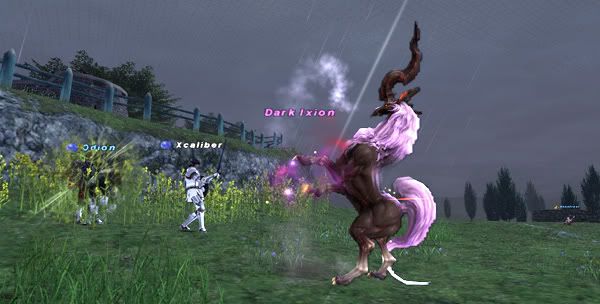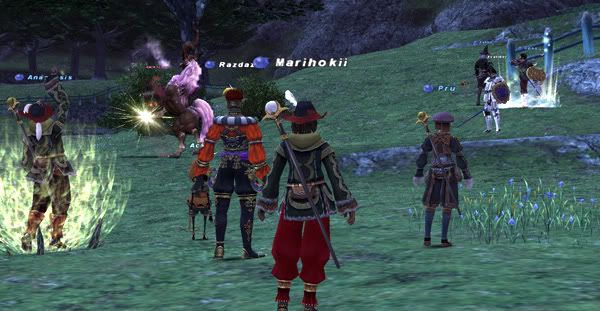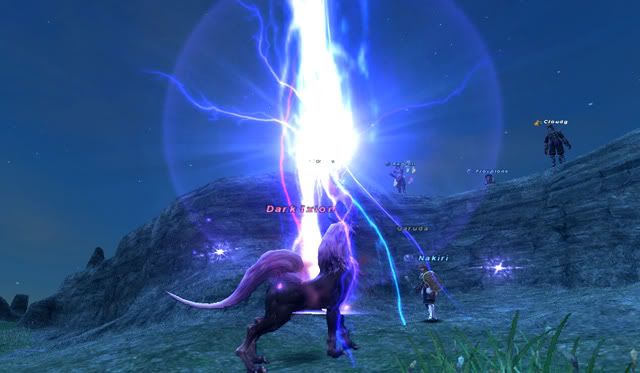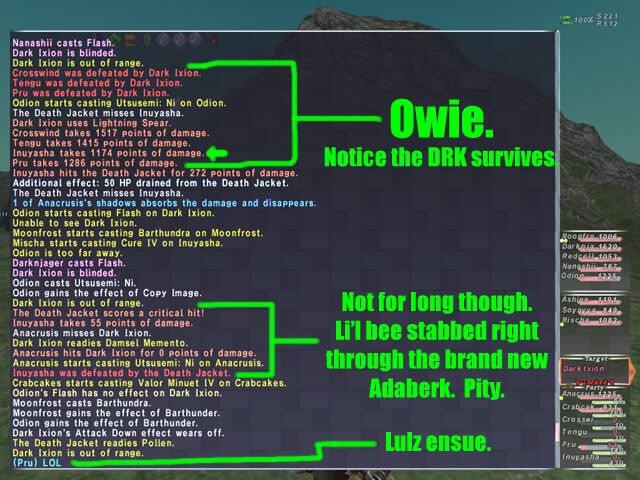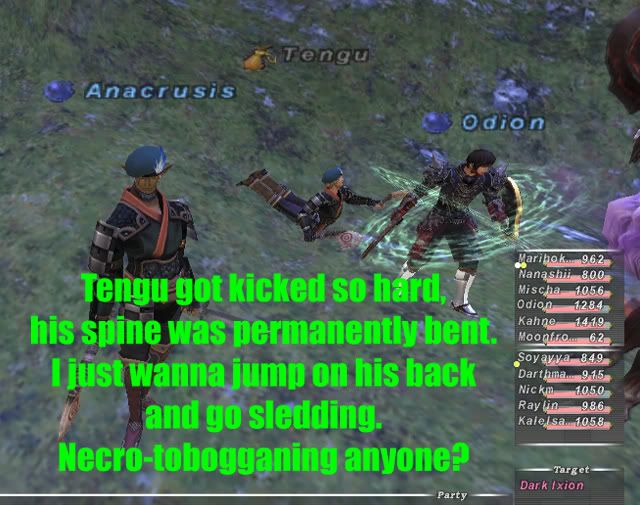 Congratulations everyone who scored some gear from this bitch, there was a lot of it.
Azoth - Moonfrost, Rawanz, Nakiri, Kahne, Ruthie, Anacrusis, Xcaliber, Aetios, Crabcakes, Soyayya
Ixion Cloak - Jasdebi, Pru, Nickm, Crabcakes, Vilius, Moonfrost, Provolone, Rawanz,
Mischa, Ruthie, Anacrusis, Soyayya, Marihokii, Redcell, Razdaz, Nanashii, Odion
Ixion Cape - Hecatomb, Darthmaul, Rawanz, Nickm, Odion, Marihokii
Provolone, Nanashii, Scrappy, Crabcakes, Xcaliber, Moonfrost, Ruthie
Hermes' Sandals - Ashiee, Odion, Redcell, Ryno, Pru, Rawanz
Nanashii, Mischa, Darknjager, Cloudg, Vilius, Hecatomb, Inuyasha,
Razdaz, Crabcakes, Xcaliber, Anacrusis, Clemharzard, Nickm, Malikai, Hylia
That's all folks.